We offer FREE Electronics, computer recycling and e-waste disposal pick-up for businesses and drop-off only for residential customers in the Atlanta Metro Area. We accept at no cost for Recycling (free): flat screen lcd computer monitors, Laptops, desktop computers, servers, Smartphones, Audio/Video Equipment,  Tablets, IT network equipment, routers, phones, telecom equipment, peripheral devices etc and much more, scroll below for complete school.
1. Chargeable Items | 2. Items Not Accepted | 3. Items Accepted For FREE Recycling! 
However there are some ITEMS WE/DO NOT ACCEPT see the list below.
1. Chargeable Items
Residential Customer Printers Or Printers Dropped of At warehouse: $20 Per Printer If printer is dropped off at warehouse (Laser OR Inkjet) , Printers/Copiers are mostly plastic & have Zero (0.00) Scrap/recycling value. 
CLICK HERE To Pay For Copier/Printer Disposal Fee
OR Pay Cash on Drop off (Exact Change)
Business Customer Printers Picked Up:  $20.00 fee can be waived for businesses with qualifying pickups. If you have a lot of equipment we are picking up and a few printers no problem.
Copiers: $100 Fee if Dropped off at our warehouse
Copiers, Printers, DC's, DVD Discs, Data Backup Tapes have ZERO (0) scrap value, if picked up alone without other equipment a minimum $200 fee will be charged. E.g A business wants Only copiers or 1 or 2 copiers/printers to be picked up, contact us to request a quote. If you have a large volume of copiers or printers contact us before delivery or pickup for a quote. If you have A large quantity of software discs, dvd's, data tapes, contact us for a quote.
If you are a business and you have copiers including a lot of other equipment copier fee will be waived.
2. Items Not Accepted:
Kitchen Appliances: Microwave, Toaster, Oven, Blender, Mixer, Large Appliances, Pots & Pans, *Gas Grills, Charcoal Grills, Electric Grills, Bbq Grills *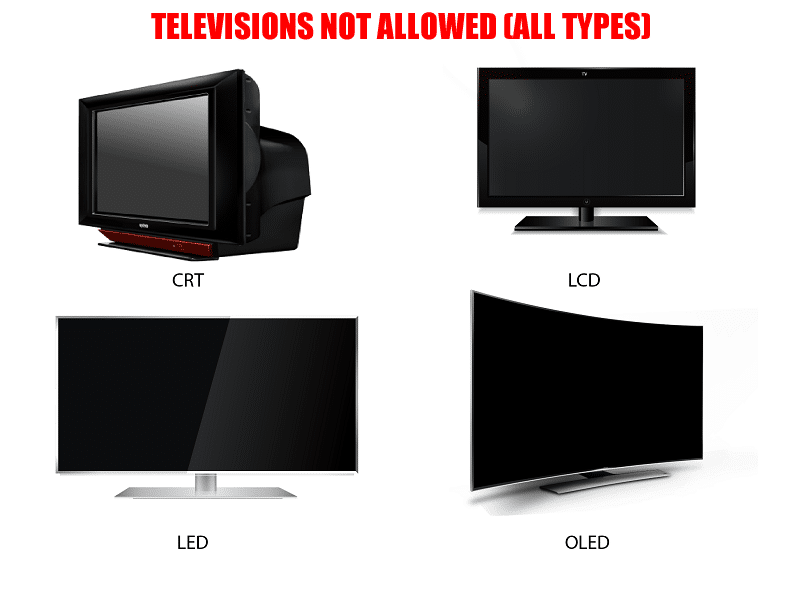 Home Appliances: Dishwasher, Fridge, Stove, AC Units, Light Fixtures, Dehumidifiers, *Vacuum Cleaners* * Smoke detectors * Mercury-containing devices* *Exit Signs*
Bulbs: All Types Not Allowed, LED, CFL, CRT, Bare Lead Glass Tubes, Florescent tubes, LED Tubes etc
Furniture: Sofas, Beds, Mattresses , chairs, tables, desks etc
Single Use Batteries: Alkaline, NI-CAD, NI-MH, AA, AAA
(Lead Acid Battery Accepted, UPS, Backup  Battery Accepted, Undamaged, Not A Bulging Lithium Ion Battery Accepted)
*CRT Monitors*
Tapes: Magnetic Tapes of Any Kind, Video, Audio, Data, VHS Tapes *Audio Tapes* Backup tapes Not Allowed
Liquid of any kind: Freon Containing Devices, Paint or Wet Items,
Building Material:  *Lumber* *Wood* *Doors* Windows 
CD's, DVD's, Optical Discs (The Only Exception is Game Discs with their console).
Municipal Solid Waste: Paper, Cardboard, Glass, wood, bottles, plastic, Contact your local city or sanitation department. 
Large Quantities of Broken screen monitors or Displays, while we accept flat screen monitors we cannot accept a large quantity of broken monitors or displays. 
We can not accept items that are considered household hazardous waste.
Large quantity of  broken printers or copiers, contact  for  a junk disposal  quote
Disclaimer: Beyond Surplus reserves the right to decline to accept any material free of charge especially unusually large volumes of low-end electronic equipment that require excessive handling & processing e.g Large volume of broken monitors, Large quantity of printers or copiers and any equipment that is wet or covered in mud.
3. Items Accepted For Recycling! (Anything Computer/IT Related)
8/31/2018 – There have been drastic changes in the recycling industry during the past year. Local and international markets for recyclable material have dropped up to 50%-90% on some commodities. The markets are no where near where they use to be. Due to these uncontrollable changes, Beyond Surplus has chosen to reduce the material that we would normally process. We also choose to recycle, "HIGH IMPACT RECYCLING" material. These are the items that are most in recycling demand and can be recycled efficiently and swiftly.
Free to Recycle
4. Scrap Metal Accepted For Free. No Pay No Charge
Ferrous and non-ferrous scrap metal accepted for drop off.
What's The Difference Between Ferrous and Non-Ferrous Metal?
The simple answer is that ferrous metals contain iron and non-ferrous metals do not (copper, brass, aluminum). You can use a magnet, if a magnet sticks its ferrous.
5. Aluminum Cans Accepted For Free. No Pay No Charge
All types, Soda, Beer, Water etc. Must be clean and dry.
Rinse Out Before Recycling. Empty and rinse out aluminum cans before recycling them. Moisture and dirt contaminate recycling, decreasing the quality of the end product and increasing overall costs for the facility.